Join the Thousands Who Pass the Patent Bar With Wysebridge
Updated Resources For September 18th, 2023 Exam
Videos, Summaries, Quizzes, and More
Dedicated Support & Study Forums
Join the Thousands Who Pass the Patent Bar With Wysebridge
Videos, Summaries, Quizzes, and More
Study Anywhere: Works On All Devices
Updated Resources: Ready for 2023 exams
Join the Thousands Who Pass the Patent Bar With Wysebridge
Videos, Summaries, Quizzes, and More
Study Anywhere: Works On All Devices
Dedicated Support & Study Forums
Updated Resources: Ready for 2023 exams
Join the Thousands Who Pass the Patent Bar With Wysebridge
Videos, Summaries, Quizzes, and More
Study Anywhere: Works On All Devices
Dedicated Support & Study Forums
Updated Resources: Ready for 2021 exams
Not Sure Where To Begin?
No need to worry. From how to apply for the exam,  what resources you need, and when to start preparing – we're here to help you make sense of it all.
First, we created the best system for how to pass the Patent Bar. 11 years and 1000's of students later, we are still helping individuals pass.
Universities & Law Schools
The patent bar review platform designed for your success.
Wysebridge is a data-driven individual-focused adaptive learning platform.  Whether you access Wysebridge online (Mac & PC) and/or with a mobile device, all your studying history, practice records, and chats sync seamlessly. We've taken the time to design and build our study materials and platform to optimize your learning capabilities with one goal in mind: to best prepare you to pass the patent bar exam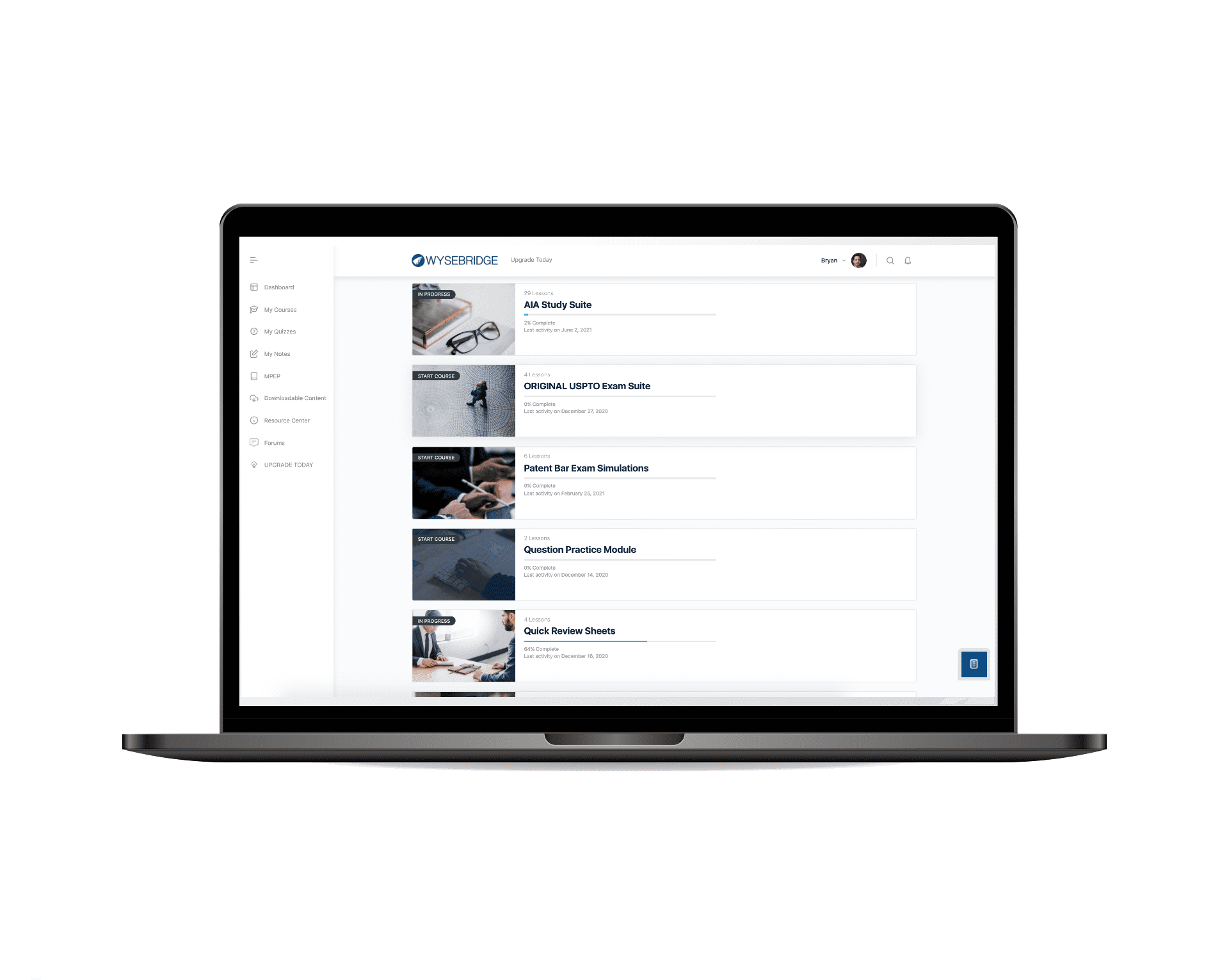 Pass the patent bar exam with Wysebridge
Everything you need to pass the patent bar exam is here – one single patent bar review platform engineered for your continued success.
Study
Study materials that are focused, detailed, and current for todays USPTO Patent Bar Exam.
Practice
Our practice resources are robust, adaptive, and laser-sharp allowing you to hone your skills and knowledge.
Learn
From test taking tips, exam insights, and real time feedback on how to pass the exam.
Engage
Study, Practice, and engage with others like a PRO with our powerful patent bar review platform.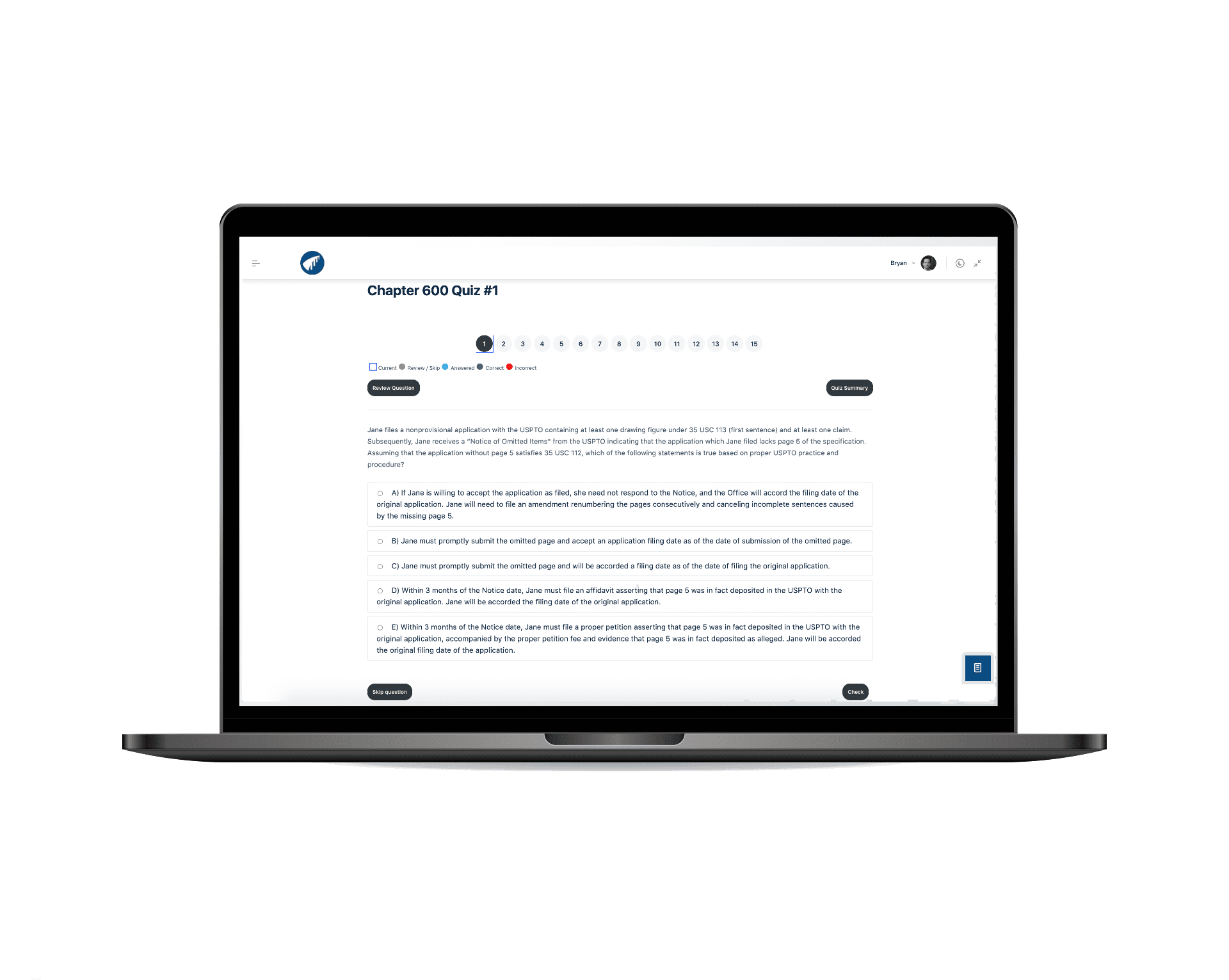 The best quizzes, content and guides to help you pass.
Easily focus your studies with content specific reviews and summaries of the most tested sections! Our powerful focused reviews are then followed up with content specific quizzes to help you lock in information and key facts..
Quickly learn the architecture of the MPEP with our targeted and detailed MPEP chapter summaries and focus on what really matters.
Take notes anywhere and keep them for follow up and studying later.
Simply click the "notes" tab anywhere inside the studying platform, and a dynamic note-taking pop-out appears. Drag and re-size the notes module so that it is in the perfect position for you.
All your saved notes are saved and displayed on your dashboard making it quick and easy to reference and can quickly be printed, or if needed, exported to Microsoft Word for additional editing.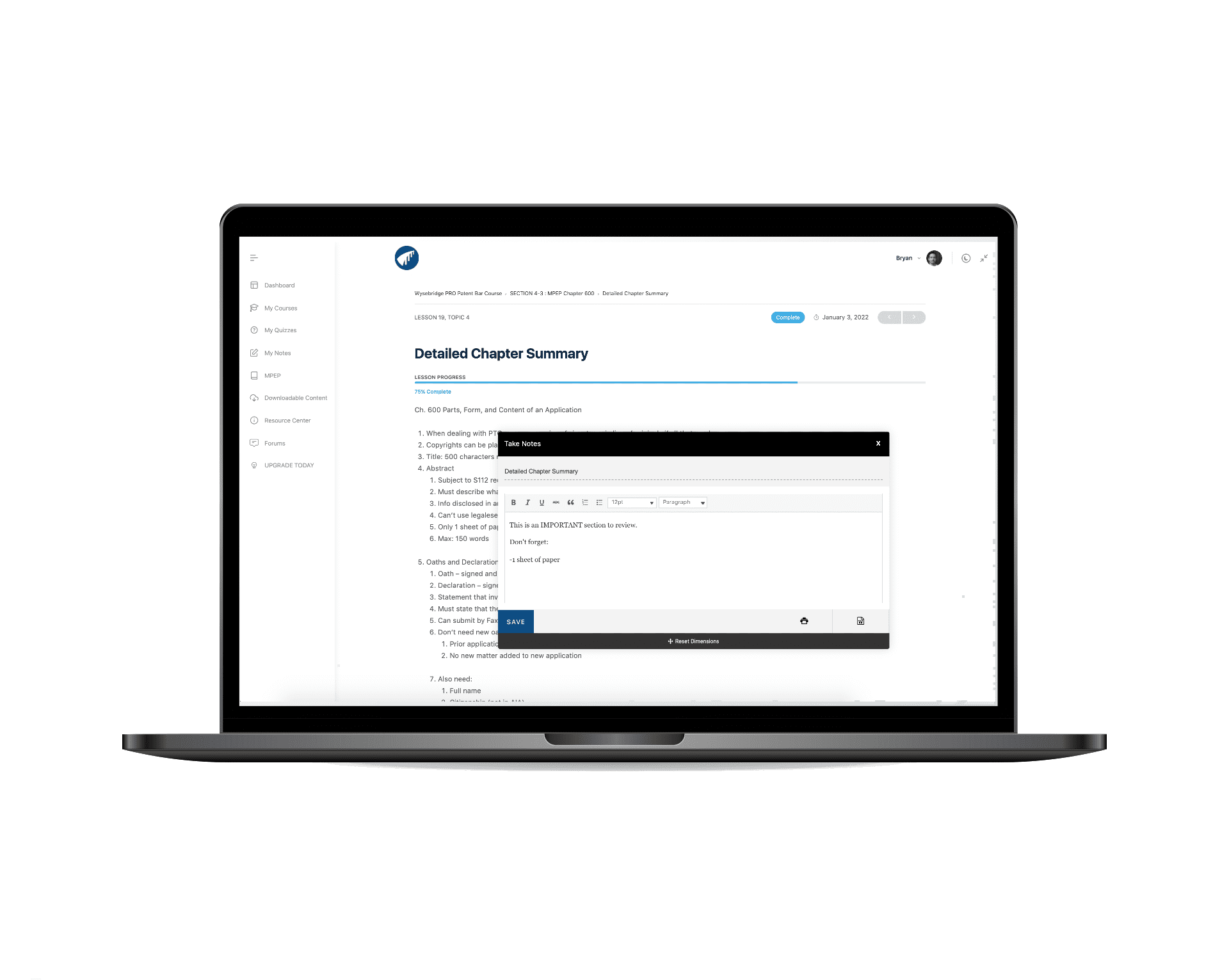 Trusted by the Best.
Individuals, Universities, and Companies of every size, shape, and kind have already made Wysebridge PRO their go to prepare for the Patent Bar Exam.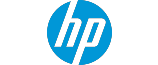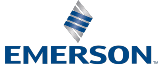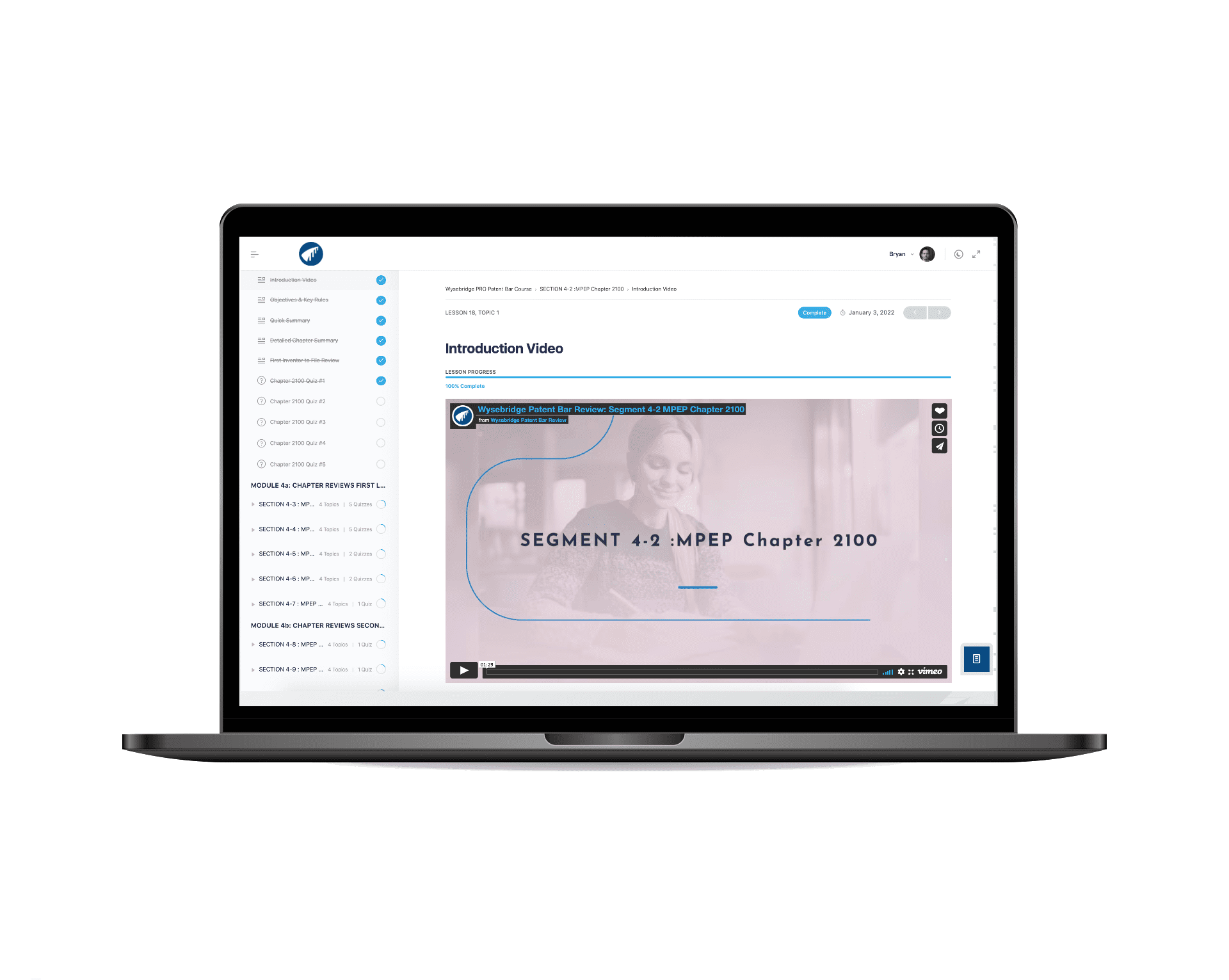 Concise video summaries before every section to help you mentally prepare for learning.
Every section of your studies has a simple introductory video to help you prepare for the content that is about to be presented. Not only are these great references points, but they also will help you quickly grasp the key content of every MPEP and
topic section.
Interactive dashboard keeps all of your studying, quizzes, notes, and conversations in one place. 
Review any quiz, anytime.  Immediately resume your studies in the last place you viewed. Practice questions by topic, or at random in our exam and question practice suite.  Download your notes, and more all from your dashboard.