2016 In Review: USPTO Patent Bar Exam Passing Rate Report
Wysebridge Patent Bar Review had an 79% passing rate for 2020 | The National Average (as reported by the USPTO) was 47%. 
The Patent Bar (the official title: the United States Patent and Trademark Office Registration Examination) allows an individual to engage in patent prosecution, which is the process of procuring patent rights for new inventions.  This field can be appealing to those who want to apply their education or experience of science or engineering in a legal capacity….or who want to explore a career change into a different sector focused on IP law.
This registration exam is not without it's challenges.  Over the past 4-5 years, the exam has gone through a significant number of changes.  For example:
April 2011,

 the exam was updated 

to test MPEP 8th edition revision 8, as well as 

KSR v. Teleflex

, 

Bilski v. Kappos

 and the 112 Guidelines.

January 2012:

 the exam was updated to include content covering two new rules issued September 26, 2011 relating to the Leahy-Smith America Invents Act and new rules governing practice in ex parte appeals before the Board of Patent Appeals and Interferences.

October 2013,

 

the patent bar exam was updated

 

to include more material from the America Invents Act (AIA) adding six testable documents (Federal Register Notices) to the Patent Bar Exam

January 2014,

 the exam was changed again to include more AIA materials including First-Inventor-To-File, PLTIA, and others.

March 2016

, the patent bar exam was changed largely around the USPTO's switch from the MPEP Edition 9 and exam notices to the MPEP Edition 9 Revision 07.2015 MPEP and exam notices which includes the Patent Law Treaties Implementation Act of 2012 (PLTIA) and the Hague Agreement.  

December 2016,

 the exam was changed again to include materials about Subject Matter Eligibility
With all of the above changes taken into consideration, we strongly suggest to not rely on old study materials to pass the exam.  If you are buying materials online or in print, double check to make sure that the content is TRULY updated, and contains questions that are specific for a current exam.  Why do we say this?
The last "official" USPTO exam question released was in 2003.  That means today's test taker experiences over 13 years of MAJOR changes in the law without any updated questions to study from.  This is one of the reasons for the success of Wysebridge Patent Bar Review, with over 600+ questions specifically written for today's exam.  These questions are formed from USPTO training resources and materials to ensure accuracy and specificity for the current exam.
Patent Bar Exam Passing Rates & Results by Fiscal Year
Below is the combined analysis by fiscal year of the total registration examinations administered and the percentage of those that passed.  The right-hand column highlights Wysebridge Patent Bar Review's Passing rate for those corresponding years. To note, Wysebridge's numbers represent the passing rate for our first-time test takers (while the USPTO numbers are inclusive of "all" test takers, regardless of the amount of attempts).  When we include all who have passed using Wysebridge, those rates for passing are in the upper 80's.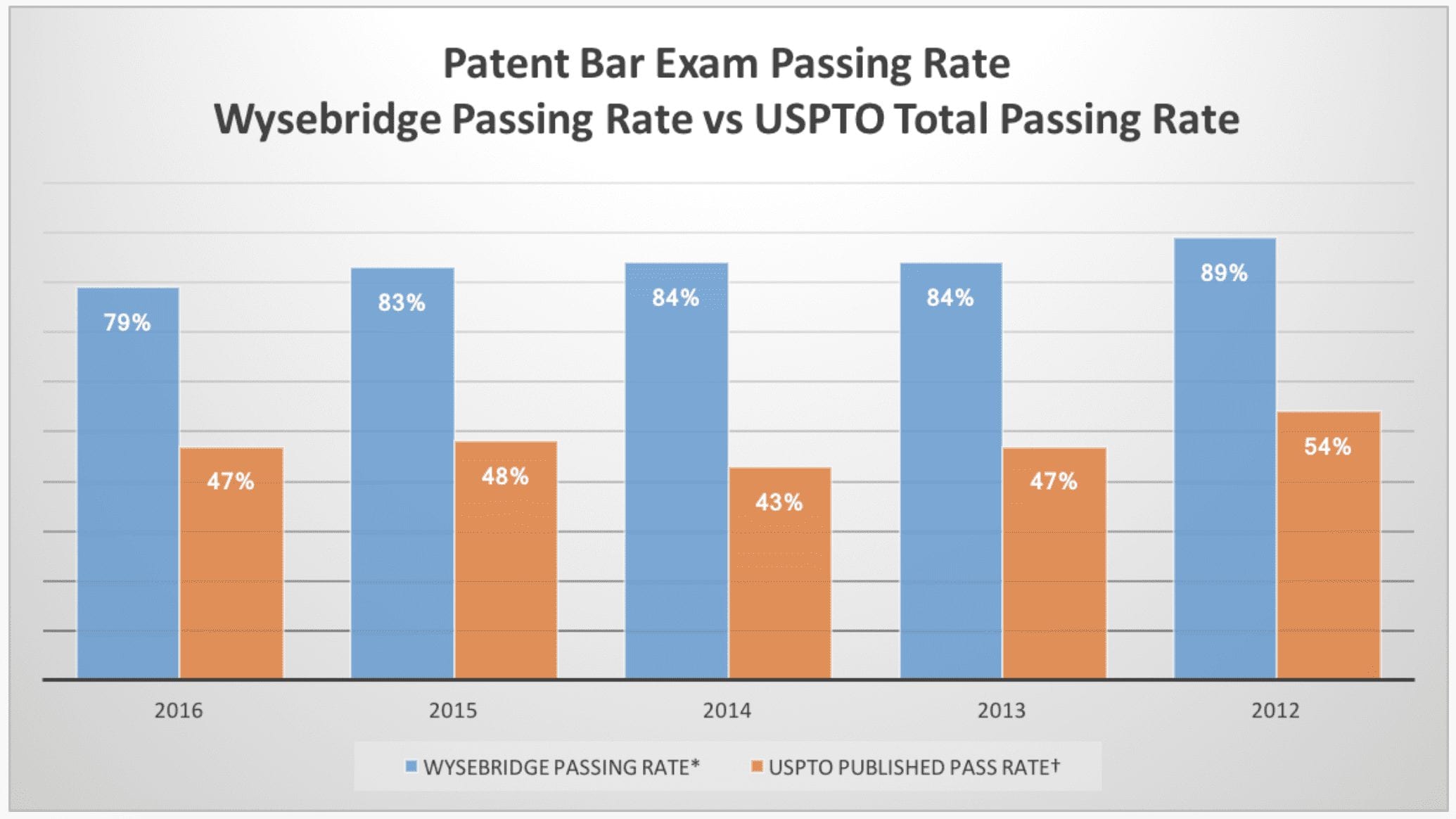 Patent Bar Exam Administration
The registration examination is presently administered under two venues:  computer-based and paper-based.  A commercial test delivery provider (Prometric) administers the computer-based registration examination.  After an applicant has been admitted to an exam, a test taker is able to schedule an examination appointment using a date of their choice within a date range and may select the appointment location from a number of testing centers.  In addition, the USPTO administers a paper-based registration examination. The USPTO paper-based registration examination is offered once a fiscal year at a date and location that is specified and announced before examination applications under that venue are accepted.
The exam is made up of 100 questions. You will be given 3 hours to complete the first 50 questions and another 3 hours to complete the second 50 questions.  After each 50q section and once you have locked in your answers, you will be unable to go back to make changes.  This is also important as once the 3hrs have expired, your answers will be automatically submitted as well. There is a 1hr break between the two sections during which time you are allowed to leave the room. In terms of the format of the exam administration, the patent bar exam is delivered via computer at a testing location (Prometric), and after you have been approved to take the exam you must schedule your exam within 90 days of being notified. You need to get a 70% on the exam to pass, and there is no penalty for guessing.  So in theory, if you can guess and get 70%, you pass (however this is highly unlikely).  That said, it does not correlate to 70 out of 100 questions, as on every exam 10 questions are unscored.  Why?  These 10 questions are "beta" questions that do not count towards your score, but you will not have any indication of which questions are scored or not.  So you actually need to get 63 out of 90 scored questions correct.  Thus, you can actually miss 17 scored questions and all 10 unscored questions, and still pass (so it would feel like you missed 27/100 questions.  Keep that in mind as you study and prepare…especially if you feel like there are a "lot" of questions you don't know).  
This is one of the (many) reasons for using a review program.  While it is possible to simply guess your way to passing, you are much better off learning the nuances of the exam, how to take the exam, and let a course guide you through the necessary elements of what to study.  If you are interested in taking the exam, please feel free to chat with us, read about the basics of the exam here, or General Requirements Bulletin from the USPTO.